Dear Followers:
As I sit here and stare at this blank post I remember that I only started blogging just a few short months ago. and the entire reason I started this blog was to create a place to look back and see memories of Fletch. Instead i've found myself blogging about what i'm recently loving, and how much I want to win a giveaway. I have a feeling that in 5 years i'm going to look back and not really care about winning a planner (although today that'd be pretty awesome) or that my current crush is a yummy yogurt. So what i'm trying to say is: i'm sorry. I will still do my lovely link ups (like my favorite Friday Letters!), the ones that will let me talk about me. my family. and what's important to us.
Most importantly, I will do anything in my power to always help out a bloggy friend. If you needs anthing.... amanda[at]talesfromfar[dot]com is where you can find me morning, noon, and night.
to the girls on my sidebar: I am honored. and I will promote your blogs with all i've got!
One last thing, I promise... you will be seeing a LOT more of this guy.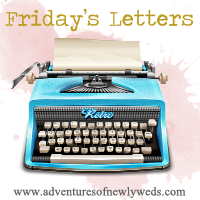 PS- Don't forget to enter my 100 Follower Giveaway! I have 7 awesome ladies wanting to spoil you with prizes!!